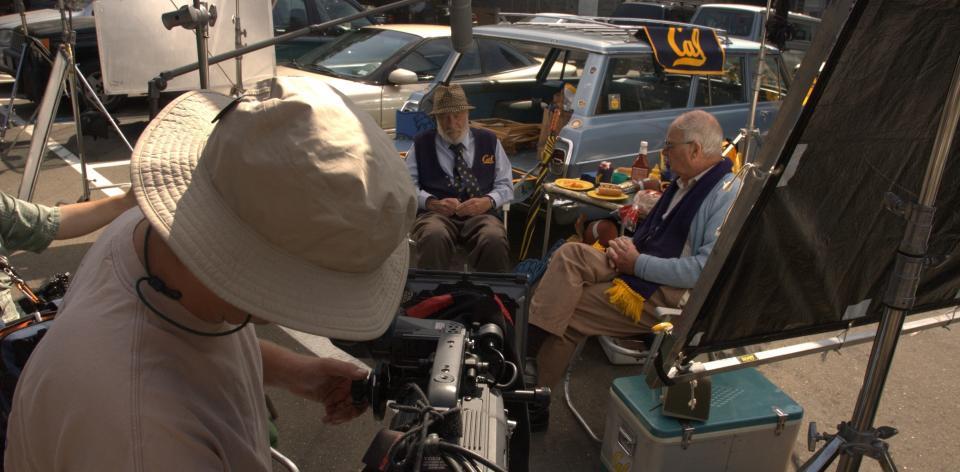 Educational institutions, news agencies, and other non-profit organizations may reference the University in articles for the purposes of education or information. 
If you wish to use the University's name, logos, landmark representations, slogans, or other trademarks in commercial media, such as film/television productions, advertising, press releases promoting businesses, products, or services, marketing communication materials, or on websites, please complete and submit our Trademark Use Request Form(link is external).
Each request to use the University's name or other trademarks in media will be reviewed to ensure that:
The best interests of the University are served

The University's reputation is not harmed

The mission, goals, and initiatives of the University are supported
Film/Television Productions
Script clearance: If you wish to use UC Berkeley trademarked merchandise as set dressing or costumes for an upcoming production, you will need to provide an electronic copy of the production script for review by BCBP and the Office of Public Affairs (OPA). The review process will be initiated upon BCBP's receipt of an electronic version of the proposed script. Please submit a Trademark Use Request form and email the script to bcbp@berkeley.edu. If you have questions, feel free to contact us at 510.642.6344. If BCBP and OPA approve the script, BCBP will issue a Letter of Understanding granting permission to use the University's trademark in the production.

Filming on campus: If you wish to film an advertisement, movie or television production on campus, but do not plan to make reference to the University or show a recognizable landmark in the final production, please contact the campus filming coordinator, Kyle Gibson, at kyle.gibson@berkeley.edu. For more information about Real Estate Services' process for authorizing campus filming and photo shoots, please visit Real Estate Services.
Commercial Photography
Use of photos which include images of campus buildings/landmarks and/or members of the campus community for commercial purposes is not permitted without a valid license agreement. 
Campus Photo Shoots: If you are interested in taking photos on campus for advertising or other commercial purposes, please visit the Real Estate Services site for more information.

Photo Gallery: Campus photos for non-commercial use or for use with a valid license agreement from BCBP or other authorized campus department are available at the following sites:

Images: Photos (for commercial purposes) which include recognizable images of individuals may not be used without their express written permission, in accordance with California Civil Code 3344.  An approved UC Photo Release form is available here. Additionally, please contact BCBP for a license agreement if a photo features a person or group of individuals wearing UC Berkeley logoed apparel or shows recognizable campus landmarks. 
Print or Electronic
The University often receives requests from commercial vendors to serve as a reference, participate in press releases, case studies, advertisements, or product endorsements. In general, and in accordance with University policy, the University does not grant permission to use its name or other trademarks for these commercial communications. Specifically, the University of California's policy states, "Approval shall not be given for advertising listing the University as a user of any product or service or as the source of research information on which a commercial program is based."
Advertising: If approved for use in advertising copy, the University's name should only be used as an adjective modifying the campus community or product name (for instance, "UC Berkeley Students", "UC Berkeley Faculty", or "Cal sweatshirt").

Location/Discriptive Use: In most cases where "Berkeley" is used as a location, it can and should be replaced with "City of Berkeley." Otherwise, the location "Berkeley" is easily confused with the institution "UC Berkeley." An example would be a business that states, "Serving Berkeley." Proper usage would dictate "Serving the City of Berkeley" or "Serving the Berkeley City area." The objective should be to make it clear that the service is to the location, and not to the official "UC Berkeley" institution. Additional approved examples include the use of prepositions, such as: "near UC Berkeley" or "…from UC Berkeley."

Case Studies: If an exception is granted to allow inclusion of the University in a Case Study, University Counsel requires that use of the University name be limited to the facts (i.e., equipment was donated by _____ to UC Berkeley in support of _____ project) without value judgments or testimonials. Further, the statement must include a disclaimer indicating that the university name does not imply an endorsement as indicated in the campus policy.

Sponsor Acknowledgments: In accordance with the Campus Online Activities Policy, sponsor logos may only appear in connection with University-sponsored events, programs, or activities upon completion of an approved sponsor agreement drafted and approved by BCBP. Furthermore, acknowledgements must comply with the campus' policies/regulations (see Use of the University's Name, Seals, and Trademarks and Commercial Activity and Fund Raising). Sponsor logos must conform to the following requirements when included in print or electronic acknowledgments:

Provide adequate space between it and any University logo to make it clear that the sponsor logo is separate from that of the University

Should be smaller in size than any University logos that may appear on the same page, product, etc.
Quick reference guide
Review the resources on this page first for more information. For: